Trump will make his pick.
NBA could learn something.
Everyone calm down.
Reaching
On Friday, in the wake of news that President Trump planned to nominate Judge Amy Coney Barrett to fill the vacancy left following the death of Justice Ruth Bader Ginsburg last week, a Democrat operative used the opportunity to speculate on the way Barrett's two adopted Haitian children were adopted—this prompted a barrage of criticism from conservatives who were outraged at the operative for seeming to use Barrett's children against her.
Dana Houle, who served as Chief of Staff for Democratic New Hampshire Rep. Paul Hodes and campaign manager for Hodes and for Democratic Connecticut Rep. Jim Himes, according to Boston Review, tweeted:
"I would love to know which adoption agency Amy Coney Barrett & her husband used to adopt the two children they brought here from Haiti."
"So, here's a Q: does the press even investigate details of Barrett's adoptions from Haiti? Some adoptions from Haiti were legit. Many were sketchy as hell. And if press learned they were unethical & maybe illegal adoptions, would they report it? Or not bc it involves her children. Would it matter if her kids were scooped up by ultra-religious Americans, or Americans weren't scrupulous intermediaries & the kids were taken when there was family in Haiti? I dunno. I think it does, but maybe it doesn't, or shouldn't."
"I hope the adoptions were fully legit & ethical. I hope if press investigates that's whay [sic] find. But if the adoptions were sketchy, reporting it would really screw w the lives of her 2 adopted kids (& maybe the 5 bio kids too)."
The South Bend Tribune reported:
In a 2019 discussion before the Notre Dame Club of Washington, D.C., Barrett said she and Jesse decided to adopt from Haiti because it was an impoverished country and because it was close enough to be able to visit as the kids became older. She and her husband debated over the years whether one should stay home with the children — she described plenty of "soul-searching and anxiety about balancing kids and work — but Jesse's aunt has helped watch the kids for years, and Jesse took on more home duties after she became a judge. "What greater thing can you do than raise children?" she said. "That's where you have your greatest impact on the world.["]
Houle got lambasted. Bethany Mandel, conservative editor, said:

By the way, she calls herself a neo-Nazi and grandma killer. She's my type of editor. I need to read the Ricochet, the magazine she edits.
Millie Hemmingway, a senior editor for The Federalist, tweeted: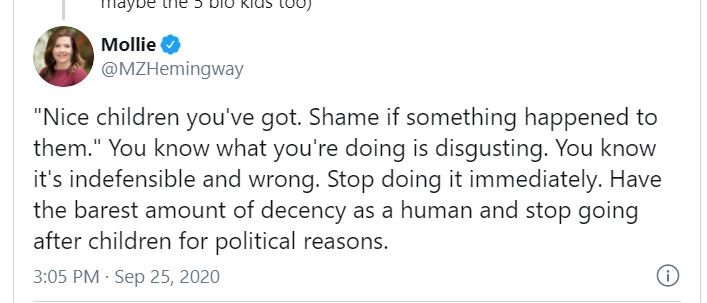 You think? Do you know who doesn't attack the children of political opponents? Republicans. Remember, the press attacked Donald Trump's son on election night? Remember that Nick Sandman was being thrown under the bus because he didn't hide and cower from some fraud playing a drum in front of his face? And realize they are attacking Kyle Rittenhouse for defending himself in Kenosha from three felons. The Left has no scruples.
Finally, Ted Cruz tweeted:

Simple yet right to the point.
https://www.dailywire.com/news/dem-strategist-questions-whether-amy-coney-barrett-adopted-her-haitian-children-illegally-social-media-slams-him
Learn a Book
Democrats in the House of Representatives will introduce a bill next week to limit the tenure of U.S. Supreme Court justices, from lifetime appointments — which is outlined in the Constitution — to just an 18-year single term.
Reuters reported on the forthcoming bill, Thursday:
The new bill, seen by Reuters, would allow every president to nominate two justices per four-year term and comes amid heightened political tensions as Republican President Donald Trump prepares to announce his third pick for the Supreme Court after the death on Sept. 18 of Justice Ruth Bader Ginsburg, with just 40 days to go until the Nov. 3 election.
According to Democratic Rep. Ro Khanna (CA), the bill — the "Supreme Court Term Limits and Regular Appointments Act" — is intended to tamp down partisanship.
"It would save the country a lot of agony and help lower the temperature over fights for the court that go to the fault lines of cultural issues and is one of the primary things tearing at our social fabric," said Khanna.
"The bill seeks to avoid constitutional concerns by exempting current justices from the 18-year rule," Reuters said. "Those appointed under term limits would become 'senior' upon retirement and rotate to lower courts."
Khanna argued, "That's perfectly consistent with their judicial independence and having a lifetime salary and a lifetime appointment."
As noted by News at Northeastern in 2018, Northeastern law professor Michael Meltsner, who specializes in the Supreme Court, said lifetime appointments to the Supreme Court were intended to "insulate justices from partisan politics."
"That was put into the Constitution to preserve the total independence of the judiciary," explained Meltsner. "Once a justice is confirmed and takes a seat on the court, they're not beholden to anybody."
My thoughts:
I believe in term limits. For Everyone. Mark Levin has a great book on this.
The 18 year limit and two picks per President won't work.
The Democrats have a great ideas but for the wrong reason.
This requires a Constitutional amendment.
https://www.dailywire.com/news/democrats-prep-bill-to-limit-scotus-justice-tenure
The NBA Should Listen to These Guys
Per the Daily Wire:
Former NBA stars Charles Barkley and Shaquille O'Neal pushed back on a lot of the outrage that racial activists have been fomenting in recent days over the death of Breonna Taylor, noting that the case, while tragic, did not belong in the same category as the death of George Floyd.
Barkley said:
"It's bad the young lady lost her life, but, you know, we do have to take into account that her boyfriend did shoot at the cops and shot a cop. So, like I said, even though I'm really sorry she lost her life, I don't think that we can just say we can put this in the same situation with George Floyd and Ahmaud Arbery, I just don't believe that."
O'Neal then reportedly jumped in and agreed with Barkley, highlighting aspects of the case from the law enforcement side of things.
O'Neal said:
"I have to agree with Charles, this one is sort of lumped in. You have to get a warrant signed and some states do allow no-knock warrants. And everyone was asking for murder charges. When you talk about murder, you have to show intent. A homicide occurred and we're sorry a homicide occurred. When you have a warrant signed by the judge, you are doing your job, and I would imagine that you would fire back."
Barley replied:
"We have to really be careful on these, you know, I hear these fools on TV talking about 'defund the police' and things like that. We need police reform and prison reform and things like that because you know who ain't going to defund the cops? White neighborhoods and rich neighborhoods."
"So, that notion they keep saying that, I'm like wait a minute, we're just going [sic], who are black people supposed to call, Ghostbusters, when we have crime in our neighborhoods? We need police reform, but like I said, white people and especially rich white people, they're always going to have cops. So, we need to stop that defund and abolish the cops crap."
As noted by The Daily Wire, the notion that the black community in the United States wants less policing is false.
"A Gallup poll conducted from June 23 to July 6 surveying more than 36,000 U.S. adults found that 61 percent of Black Americans said they'd like police to spend the same amount of time in their community, while 20 percent answered they'd like to see more police, totaling 81 percent. Just 19 percent of those polled said they wanted police to spend less time in their area," Newsweek reported. "Black Americans' responses to the question were nearly on par with the national average, in which 67 percent of all U.S. adults said they wanted police presence to remain the same and 19 percent said they wanted it to increase."
I hated Charles Barkley when I used to watch the NBA. That's because he was a brutal player and the Lakers couldn't control him. I don't know how intelligent Barkley is but he definitely has some common sense and he's rich enough not to care what people think of  his opinions.
I loved Shaq. I think he is probably my favorite Laker. I'm not surprised he agreed with Barkley. Don't forget: Shaq was a reservist police officer and he's funny as hell.
Good for those two and the NBA should be listening to them. Their ratings are down by 50% because of all this social justice warrior bullshit. The reality is 81% of blacks agree with Shaq and Chuck. The NBA better get their heads out of their asses because LeBron, who is an idiot, ain't selling tickets anymore. The Lakers may win the championship this year but I can guarantee you I won't be watching it.
https://www.dailywire.com/news/charles-barkley-shaquille-oneal-push-back-on-narratives-in-breonna-taylor-case
People, Relax
I always want to try an end a podcast with a Joe Biden comment. Well, I have one. From 2016. I can't lie, I have mixed feeling about it. Things like this will always end positively, though you may not like it.
First, here's sleepy, creepy Joe talking:
There was a time I was in a meeting and I made a joke about beating my wife. It was a joke but inappropriate. I got into trouble, was crucified in HR but dealt with my punishment. Over. This is Joe Biden comment. But there are things I think show us, not about Joe, but about the media.
This happened in 2016. Why hasn't this reported before now? Would Trump get the same consideration?
Biden just bitched for an entire Town Hall about how Trump hates the military. Why is this not a thing?
Those are rhetorical questions. i don't have an answer. Well, I do and so do you.
But here's the thing that bothers me. And this is a criticism for the Right. Joe Biden made a joke. It was a joke. He's with a bunch of soldiers, the saltiest human being in the world. They are actually trained to be salty. Trained to be tough. Trained to be hard and insensitive to hard words. These people avoid bullets for a living, watch their friends die for a living, they kill for a living. Do you think any of these people really got offended?
I was in the army. I can guarantee you they didn't. So why are conservatives getting offended?
https://www.dailywire.com/news/breaking-video-emerges-of-joe-biden-calling-u-s-troops-stupid-bastards-during-speech-biden-campaign-responds