Here's a newsflash: Joe Biden is corrupt and too stupid to hide it.
A 12-year old gets a big victory in Colorado and teaches the school district a history lesson.
And it's really good to be a perverted dude these days.
Dumbass of the Day
This Could Be Bad
Joe Biden's corruption, and stupidity, is becoming a real problem for Democrats.
According to the Daily Wire:
The National Archives and Records Administration (NARA) is being sued to turn over approximately 5,400 emails connected to then-Vice President Joe Biden's pseudonym accounts to forward government information and business with his son, Hunter Biden, and others.
Southeastern Legal Foundation (SLF) filed a federal lawsuit against the agency on Monday after NARA officials confirmed with other sources that Biden used three personal pseudonym email accounts under the names Robin Ware, Robert L. Peters, and JRB Ware but has since "dragged its feet and still has not produced a single email," the law group said in a news release.
This guy is so stupid he can't make up an E-mail address that can't be traced to cover up his corruption.
https://www.dailywire.com/news/law-group-sues-national-archives-demanding-federal-agency-turn-over-5400-biden-pseudonym-emails
Big Win or Big Loss?
According to Fox News:
A 12-year-old boy just won a major victory against his school after a video of him being removed from class for displaying a Gadsden flag patch on his backpack went viral this week.
Education expert and president of the Libertas Institute in Utah, Connor Boyack, released a screenshot of the Vanguard School Board of Directors allowing Jaiden to "attend school with the Gadsden flag patch visible on his backpack."
"We won!" Boyack wrote on X, formerly known as Twitter, Tuesday. "Let this be a lesson — document your encounters w/ government employees. Had Jaiden's mom not recorded the video, this wouldn't have got nearly the attention that it did."
Here is the video:
The family released the statement by the Vanguard School Board of Directors overturning the schools decision.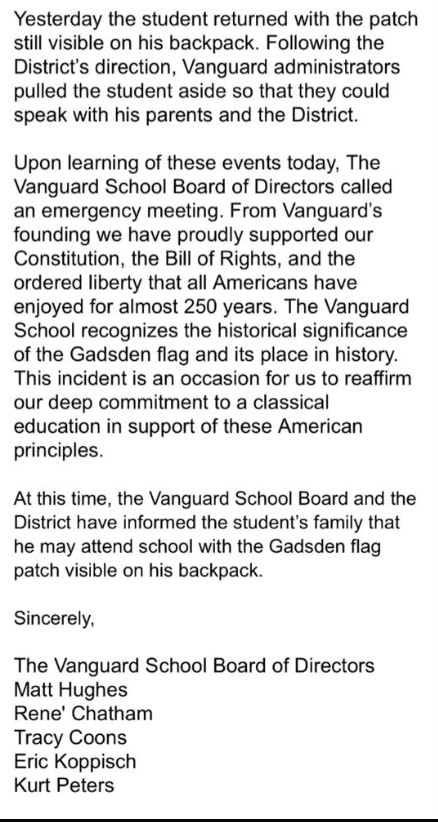 What really should concern people is not this little boy and the fight they had to go through but the history all the kids are being taught at this school.
Everyone is a Dumbass Here
According to the Post Millennial:
Seven college students, sorority sisters at the University of Wyoming, brought suit against the national Kappa Kappa Gamma leadership over their policy of allowing a man into the sisterhood. That case has now been rejected by the US District Court for Wyoming, and the sisters in the sorority will be forced to allow the male entry to the women's group.
The male in question, Artemis Langford, reportedly watched the college girls undress, sometimes sporting an erection while doing so. The sorority sisters didn't like it, but the Kappa Kappa Gamma policy is that men who claim to be women are women enough to be part of the sisterhood.
Judge Alan Johnson dismissed the case, Westenbroek v Kappa Kappa Gamma Fraternity. The ruling from Johnson was that it was the right of the group to redefine the word "woman" to include men. "Kappa Kappa Gamma's bedrock right as a private, voluntary organization — and one this Court may not invade," the judge said, per Reduxx.
Johnson also declined to say what a woman is, a question that has plagued many in public life who do not want to be shamed for knowing that biological reality exists. "The University of Wyoming chapter voted to admit — and, more broadly, a sorority of hundreds of thousands approved — Langford," Johnson said.
"With its inquiry beginning and ending there, the Court will not define 'woman' today.
"The delegate of a private, voluntary organization interpreted 'woman', otherwise undefined in the non-profit's bylaws, expansively; this Judge may not invade Kappa Kappa Gamma's freedom of expressive association and inject the circumscribed definition Plaintiffs urge."
Everyone is an idiot in this story. Especially the women who do not just throw their membership cards to this sorority in the trash.
Who is at Fault Here?
According to Fox News:
A Waldorf, Maryland, teenager was fatally stabbed early Sunday morning after a dispute over a fast-food dipping sauce turned physical.
Now, a Washington, D.C., Superior Court magistrate judge has ordered the suspect accused of stabbing the 16-year-old be held at a secured juvenile facility until her next hearing Friday.
FOX 5 DC reported that the suspect, also 16 and from Waldorf, faces second-degree murder and multiple other charges in the fatal stabbing of Naima Liggon.
Before giving her decision, Judge Sherri Beatty-Arthur reportedly told the court that the incident was a "dispute over sauce."
At about 2:10 a.m. Sunday, a group of young people stopped at the 24-hour McDonald's by U Street and 14th Street Northwest in Washington after driving from Maryland to go to a party in D.C.
During the juvenile hearing Monday, it was revealed that an argument started inside the vehicle over the fast-food giant's sweet and sour dipping sauce before turning physical. The teens, who were still near the eatery, got out of the vehicle and the fight continued.
One of the defense attorneys said the suspect stabbed Liggon in self-defense after getting jumped during the fight.
There is a saying that nothing good happens after midnight. Question: Why are these kids out at 2 AM? Where were there parents? Why aren't their parents in jail?
Just Dumb
Here comes another cancel culture moment.
According to Fox News:
Martha Stewart's Arctic getaway has landed her in some hot water.
Stewart posted a picture of herself on social media enjoying a cocktail aboard a luxury cruise traveling to Greenland from Iceland.
"We actually captured a small iceberg for our cocktails tonight," Stewart wrote, in part, in her caption.
She also shared a photo of a huge piece of ice sitting on a black cart, presumably the ice she was referring to being used her drink.
The rest of the post featured photos of glaciers and beautiful scenery from her journey and concluded with a pic of the 82-year-old in cold-weather gear on the deck of the ship.
"Martha the ice caps are melting don't put them in your drink," wrote one commenter.
"I generally love Martha and the excesses of her life because she's about beautiful gardens, homes, and food, but wealthy white people drinking their iceberg cocktails while the planet is in flames is a bit tone deaf," shared another.
"Martha I love ya. But weren't you just talking about climate change with your wash out on your driveway in NY? Melting icebergs for a cocktail surely won't help. I'm not even going to talk about the boat you're on and how that can't be good for climate change either," said a third.
"You should have left the ice right where it was. You have heard of global warming haven't you?" questioned another.
Representatives for Stewart did not immediately respond to Fox News Digital's request for comment on the post.
Martha Stewart is 82-years old and worth $400 million. If she doesn't flip a double-barreled middle finger here I will never make the chicken soup she taught me again.